Where are your real estate clients? Are they offline or online?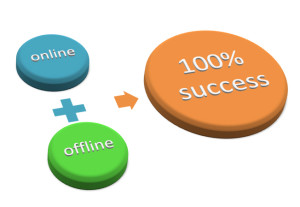 There are two very important things to think about before you start on a real estate marketing campaign.
What is your brand/identity
Where are your clients
Brand/Identity is a topic for another day. For now we need to figure out where your clients are in order to effectively market to them.  So, this is what you do:
The first step is to draw a line between the online and offline world. Unplug your clients from the internet and think about the offline behavior of your target audience.
Where do they go when they are out and about? Are there groups that they are part of? What associative activity brings the community together and makes them a captive audience?
Schools are the most obvious example of a community staple alongside church. What about clubhouses or community events? The top agents in my community are at every neighborhood event promoting their business. When there isn't an event they are sponsoring garage sales or promoting their local open houses.
Let's go back online. When your target demographic is toying with the idea of buying or selling a home, how do they do it? Do they go online? If so, how would they come across you online?
Agents who have determined that their clients are online are very clever. They have an abundance of yelp reviews that mention specific keywords that relate to their niche.
They have a website dedicated exclusively to the local HOA with their info everywhere. These agents know that online clients do research and know what they are looking for. Top agents know these clients are looking up keywords that relate to housing tracts, schools district, HOAs, and other local niche words and landmarks.
What percentage of your clients are better reached online versus offline? You must determine this and dedicate a percentage of your marketing efforts to online and offline efforts before you draw up a business plan.
http://balboateam.com/wp-content/uploads/2017/10/LOGO_Small.png
0
0
Admin
http://balboateam.com/wp-content/uploads/2017/10/LOGO_Small.png
Admin
2015-07-24 14:26:17
2015-07-24 14:26:17
Where Are Your Clients?